*Disclaimer: Please, make sure to appropriately cite this publication when using it as a reference in your assignments/projects. Otherwise, it will be considered plagiarism!
Coke Life's Strategy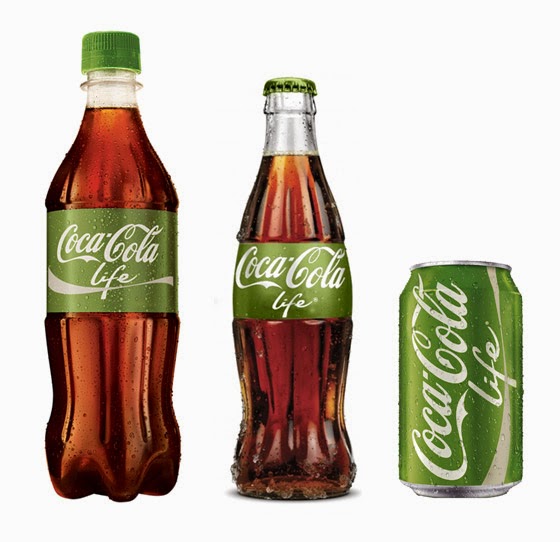 In 2013, the Coca-Cola Company (TCCC) launched its new product on the Coke line, the Coke Life. The firm expanded its product portfolio intending to better attend a specific demand on the soft drink market: more health conscious consumers that follow a balanced lifestyle and have the need for a low calorie and tasty beverage option. So, Coke Life reflects a TCCC segmentation strategy targeting a portion of the market which represents a relevant latent demand. The blend of sugar and stevia plant extract makes the Coke's variant a unique option in the category. The idea of the product seems to perfectly attend the needs of the segment, but TCCC's performance numbers don't show this success.
After Coke Life was launched, the company's sales decrease by 2.4 percent compared to 2012. "The recipe tweak suggests sales of Coke Life have fallen short of targets and failed to boost sales of the overall Coca-Cola brand" (Mitchell, 2016, para. 6). While working on marketing their new product, the brand was affected by some external events that ended up damaging the Coke Life's image among the market. The noise on the company's macro environment was caused mainly by regulatory forces that negatively reflected on the social values related to soft drinks. The most impacting event happened in 2015 when San Francisco lawmakers decided to include a warning label on ads for carbonated soft drinks. The message warned consumers about the fact that the product contributes to obesity, diabetes and tooth decay. So, being linked with this kind of regulatory measure was greatly adverse for Coke's brand as a whole and it clearly reflected on Coke Life's sales.
Ultimately, it is clear that the major issues of this case are related to consumers attitude towards the new product and the brand. Despite TCCC's effort to efficiently develop, deliver and communicate the value of its new product, the market acceptance for Coke Life wasn't like expected. The perception is that the company is trying to find a medium between the traditional tasty Coke and the artificially sweetened Coke Zero or Diet Coke (Slater, 2014). It might seem to consumers that the company is trying to give more options but, on the other hand, can reflect the company's attempt to forcibly make healthy something that is intrinsically harmful to the health. Therefore, how can TCCC improve its decision-making in order to better market Coke Life and boost its performance?
The marketing strategy that TCCC applied adding Coke Life to Coke's product line reflects an intensive growth opportunity that the company identified and invested in. Through the "product-market expansion grid", firms can assess relevant growth opportunities with the product portfolio and market segmentation (Kotler & Keller, 2016). TCCC's choice was to create a totally new product that attends to a new growing demand. Therefore, Coke Life represents a differentiation marketing strategy because the offer was developed oriented to a new market of adults that look for a tasty Coke, naturally sweetened and with low calories.
This case clearly illustrates the substantial influence of external environmental factors on company's decision making. Changes in technology, society, economy, nature and legislation can drastically affect firms. As mentioned before, the regulation for soft drink warning labels was an important challenge that Coke had to face. On the other hand, although these forces can represent challenges for the companies, tracking external trends can also contribute to the brand by providing insights into opportunities. New offers are developed because an unmet need was identified on the market and, often, this new demand is a consequence of an external event. So, TCCC's identification of a new segment and the initiative of anticipating their needs with a new product was possible thanks to a well executed macroenvironmental marketing analysis.
The STP framework can be applied in this case when we think about the process that TCCC went through in order to launch Coke Life. First, the company segmented the non-alcoholic ready-to-drink (NARTD) market considering especially behavioral and lifestyle dimensions. Psychographic segmentation involves grouping consumers based on their personality. The behavioral segmentation considers customers profiles based on their purchase attitudes. Behavioral variables take into account important buyers features such as the benefits sought and usage rate (Crane & Rudelius, 2014). Secondly, the company selected to target the most convenient segment of the market. In order evaluate the segment attractiveness, some criteria needed to be analyzed. Market potential of growth, the intensity of competition, costs and market access were surely evaluated by TCCC before selecting the segment to invest. Finally, the company put its marketing efforts in positioning the new product as the perfect solution for the target problem.
Another concept that can be applied in this case is the brand equity. Although the unexpected negative feedback of Coke Life, Coke's brand as a whole still have a great equity that surely helps TCC to overcome the "failure". Evaluating Coke's brand equity by means of the BrandAsset Valuator model, it is undisputable that the company is in a leadership position. Therefore, it has high levels of energized differentiation, great relevance, strong esteem among the target and wide knowledge.
Consequently, the added value endowed to all Coke products reflects on consumers attitude towards any launch that TCCC does on this product line. Since brand equity is influenced by brand name awareness, the degree of loyalty, perceived quality, and the brand's associations (Tuckwell, 2014), Coke's brand has an intrinsic value that instantly adds all these attributes to any product launched on the line. So, all the new products that the company releases on the market will already be affected by the image that consumers have about the brand as a whole.
Recommendations
As this analysis shows, the main issue faced by TCCC is related to consumers perception about the new release. Therefore, the best action plan to face this challenge is to work on intensive promotional marketing and branding strategies to better position Coke Life to the target audience. However, first of all, the company should do a marketing research to identify consumers perception, concerns and purchase barriers for the new product. The management decision problem should reflect the actions that the decision maker have to do and the marketing research problem clarifies what information will be necessary and how it will be collected (Malhotra, 2011). Moreover, Coke should try to understand how the target consumes media and what they think about the direct and indirect competitors of Coke Life. As a large and historical firm, Coke has a rich and developed marketing information system (MIS) that can be used, in addition to marketing research, to help the company better understands the target and the market. The combination of marketing research with internal records and marketing intelligence activities is greatly powerful in providing useful information for this process.
Then, with the marketing research insights, TCCC can plan and execute an IMC strategy that strives to solve the marketing problem. Coke Life's target market of health-oriented consumers is highly conscious about the harms of soft drinks. Therefore, Coke should work on developing an intelligent marketing strategy to more efficiently communicate with them about the health benefits of Coke life compared with most soft drinks and non-alcoholic ready-to-drink (NARTD) options. The focus of the campaign should be on breaking off the perception that the brand is trying to delude consumers promoting an unhealthy product as healthy. Since the company is a market leader and has enough budget and popularity, it could efficiently promote and spread a new image for Coke Life. Through an integrated approach, use market intelligence information to select the best media and way to communicate with the target.
Another good tactic is to associate the Coke Life's brand with some corporate social responsibility initiatives, as they are already doing with the 100% recyclable bottle. Since the target of the product shares a common concern about sustainability as a lifestyle characteristic, the company can commit to some eco-friendly practices that link the brand with a green attitude. By positioning Coke Life as part of a bigger purpose, the TCCC can create a deeper connection with consumers and make them engage and support the brand ideas. Experiential marketing initiatives related to the sustainable commitment of the brand can also help create a more personal connection with consumers. Anyways, the firm should try to create a brand image that relates to the target's beliefs and life attitude. Moreover, TCCC should advertise Coke Life striving to change consumers perception about its health criticisms. A good strategy for this could be finding some brand associations with celebrities, medical communities, events or by sponsoring athletes and causes.
Further, TCCC has to pay attention to the growth of other options of non-alcoholic beverages that may threat Coke Life market share. Non-alcoholic ready-to-drink (NARTD) beverages such as ready-to-drink coffee and energy drinks represent indirect competitors that the company has to consider and track. Therefore, an efficient course of action to improve Coke Life's sales could be investments on differentiating it from all these competitors and advertise the product benefits through smart comparisons. Promotion strategies that focus on the product unique selling point would help encourage consumers preference. Stressing the points-of-difference that Coke Life has compared with the indirect competitors can be useful to show the target how the product is the best option for their thirst.
The media decisions should reflect the marketing research insights. As the target is mostly represented by millennials, it is likely that their media consumption is especially based on more non-traditional mediums such as social media, video games, TV and video on demand platforms. So, TCCC should focus its media strategy on online campaigns that are compelling to millennials, such as Youtube videos, viral and storytelling contents that encourage sharing. The company can also promote Coke Life through gamification, which consists in a very effective and fun way to attract consumers attention. In addition, the company can advertise Coke Life benefits and values on specific TV shows and on-demand programs that relate with the target. Product placement and branded content represent another good strategy to spread Coke Life message. Besides, it is important that all these media contents are adapted to the be mobile friendly. The target media consumption is increasing happening on mobile devices, so this trend is greatly relevant for any media decision. Although Coke should focus on advertising campaigns, it is important to integrate all these initiatives with other promotional tools strategies such as public relations and sales promotion.
Ultimately, in order to help TCCC quantify, compare, and interpret its performance, some relevant marketing metrics can be used. These criteria that help to track marketing productivity can be based on the short or long-term result. The short-term results reflect especially sales and profit, while long-term are measured by market share and customer attitudes (Kotler & Keller, 2016). Although both types of metrics are important to be tracked, in this case, the ones related to brand awareness and consumer behavior are more relevant, since they can better reflect the progress on the main issues faced here. Finally, these outputs of the marketing dashboard should clarify the success and effectiveness of the proposed courses of action and help the company evaluate and control its marketing activities.
References
Crane, F. G., & Rudelius, H. (2014). Marketing: Ninth Canadian Edition (9th ed.).
McGraw-Hill Ryerson.
Kotler, P., & Keller, K. L. (2016). Framework for marketing management. Upper Saddle
River, NJ, United States: Prentice Hall.
Malhotra, N. K. (2011). Basic marketing research: Integration of social media
(4th ed.).
Boston: Prentice Hall.
Mitchell, S. (2016, February 11). Coca-cola seeks new life for coke life. Retrieved
March 4, 2017, from http://www.smh.com.au/business/retail/cocacola-seeks-new-life-for-coke-life-20160209-gmpxww.html
Slater, J. (2014, September 3). The death of coke life. Retrieved March 4, 2017, from
Interesting Brands, http://www.themarketingsage.com/the-death-of-coke-life/
Tuckwell, K. (2014). Integrated marketing communications: strategic planning
perspectives. Don Mills, Ontario: Pearson Canada Inc.